At BK Technologies, we look to supply public safety, the federal government, and business sector clients with reliable, high-performance communication technology. While we're also proud to offer top-of-the-line products to meet the needs of commercial and industrial users, our BK Radio Products, typically used by professional radio operators, boast an extensive list of features that we're excited to highlight. The KNG Command Radio is one of our best portable radios available with all the features you would want.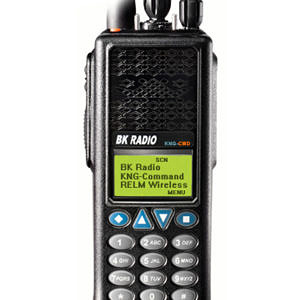 Our RELM KNG Series has recently been expanded to include KNG Command Portable, offering our client's more extensive product features to further support all public safety missions. Our KNG Series radios have always included a robust wildland fire feature set which includes keypad programming, radio-to-radio cloning, Code Guard Picklists, and TalkGroup Picklists. Now KNG Command adds to the list.
Offering clients the best reliability with the following features:
Enhanced Control Lock

Legacy Cloning

Command Zones

Continuously Rotating Channel Knob

Robust Accessories
All of our KNG products are tested by an accredited third-party laboratory and have been proven to meet and exceed the Department of Homeland Security's P25 Class A radio requirements. Additionally, they all surpass public safety grade operation standards for reliable power and tried and true results. As a national supplier of two-way radios, we're always looking to expand our product offerings to further support those keeping our communities safe. To learn more about our extensive offerings and their features, explore our product page or contact our sales department.